COURSE OUTLINE
INSTRUCTOR: Jun-Pierre Shiozawa 
Course Outline: The Traveling Through Watercolors Rome/Venice workshop is a chance to experience the special  and unique characteristics of two of the most splendid cities in the world all through the joy of  watercolor painting. Participants will have a chance to paint amidst the ancient squares and  fountains of Rome as well as the shimmering canals of Venice in an intensive ten day program.  There will be guided class instruction, organized excursions, tours and access to museums and exhibitions as well as personalized experiences to enjoy the distinctive cultures of each city.
In Rome, intensive classes will cover watercolor painting fundamentals, technique and  how to approach painting on location. Color will be explored as well as the study of drawing,  specifically how tone, brush stroke and line can convey form, space, light and texture. Along with  the classes there will be group critiques to provide feedback and discourse on each participants'  works.
To accompany the classes, excursions will be organized to allow participants to paint on location.  With guided demonstrations students will be able to paint their own views of Rome's squares,  ruins, and umbrella pine trees throughout the city. A scheduled visit to the Borghese Gallery and  its garden will allow students to see some of the most beautiful paintings and sculptures in the  world and paint in the gallery garden afterwards.
From Rome the workshop will travel together via high speed train to Venice for the second phase  of the program. The painters will discover why painters such as Turner, Sargent and Whistler were  so inspired by the views of Venice. Along with a guided tour of the city center, students will be able  to visit the Venice Biennale for its 17th international architecture exhibition.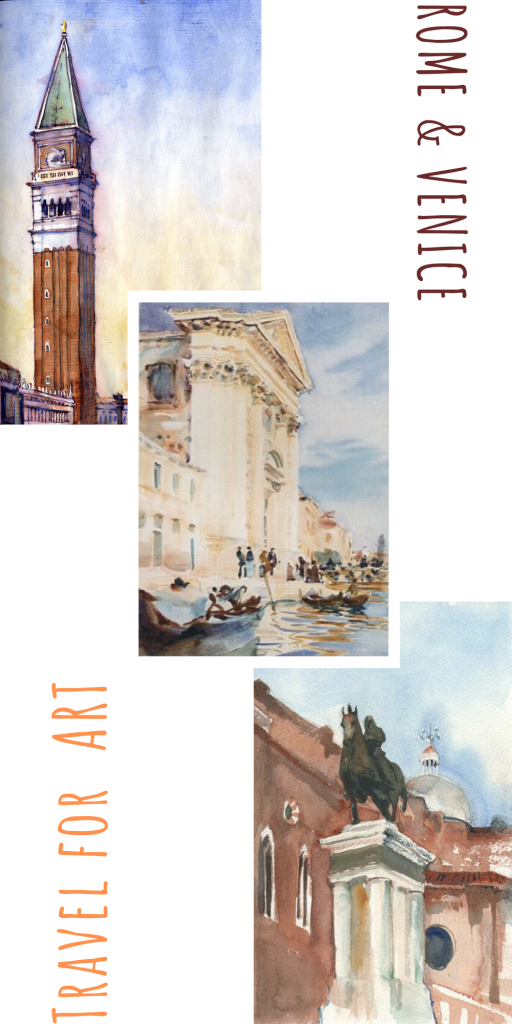 DEADLINE TO APPLY ON JULY -15- 2020 - CONTACT US