ITALIAN LANGUAGE & CULTURE IN STABIAE/SORRENTO COAST
LEVEL BEGINNER
The main aim of our Italian language and Culture course is to offer to foreign students, who don't speak Italian, the basis of our language, grammar and vocabulary in order to teach them how to communicate in all situations of daily life. The courses will be organized in different levels, starting from a general introduction to Italian, focused on the study of the main structures of the spoken and written language and of most common uses.
LEVEL 1: BEGINNER
This is a general introduction dedicated to beginner students and aimed at familiarizing with the acquisition of Italian language. Phonetics, the foundation of grammar structures and verbs are introduced with attention to their actual use in an authentic linguistic context.
COURSE MAIN AIMS:
To provide students with basic skills in understanding the spoken language through the use of an appropriate vocabulary related to specific situations
To acquire the basic structures to communicate
To be able to comprehend and write short paragraphs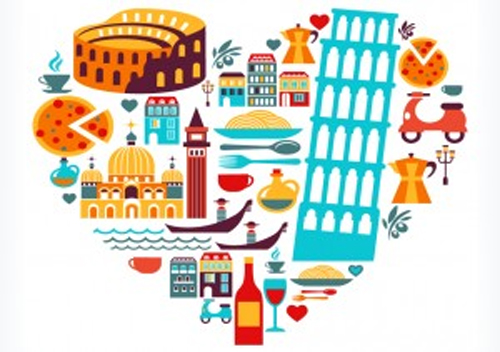 SYLLABUS
BRIEF DESCRIPTION
LEARNING OUTCOMES:
• To become aware of the basic structures of the grammar.
•To be able to use the acquired grammar rules in authentic linguistic contexts.
•To be able to ask simple questions and make simple statements.
•To develop basic reading and comprehension abilities.
•To be able to understand uncomplicated sentence-length and paragraph-length statements.
• To develop basic writing abilities.
•To build up an essential vocabulary.
TEACHING METHOD:
The teaching approach is comprehension-
Participation and team working ability are encouraged in class. The role of the language professor is not only to provide the students with information, rules and correction of mistakes but also encourage them towards a challenging linguistic experience. Priority is given to comprehension and language production.
During the course, the professor will check students' level of comprehension and learning through written and oral tests and homework assignments. At the end of the course there will be a final written and oral examination.